This is a collection of my two Easter Product lines. Most products in my shop offer customization with different images and text. Zazzle offers a wide variety of t-shirts and sweatshirts. The same design can be changed from a lady's to a men's t-shirt or even toddlers. Sizes range (depending on the t-shirts) from size 2 to 6X for adult shirts, with a large variety of sizes for kids and infants. Zazzle is a custom print-on-demand site. It offers Binders, Invitations, T-Shirts, Stamps, Cards, Mugs, Keds Shoes, Pet Clothing, Aprons, Tote Bags, Buttons, Hats, Keychains, Magnets, Mousepads, Posters, Stickers, Ties and more.

I'm still working on products for Easter. Not all these product types are made yet. Send me a request to see a product type made off my Easter Collection. I can custom make something just for you. You can even send me a photo of yours for a certain product and I will make it for you.

If you would like to see all of my Zazzle products then Click Here to View Sandyspiders Gifts on Zazzle
All my products are protected by


I plan on adding more images to these product lines. Keep coming back to the Zazzle site to see the latest add. The Vintage images Vintage Easter Angel and Lamb, Vintage Easter Rabbits and Easter Vintage Chickens are from my personal postcard collection given to me from a special friend. These three are dated 1908 to 1910. I have added my personal touch and brought them to the best resolution quality.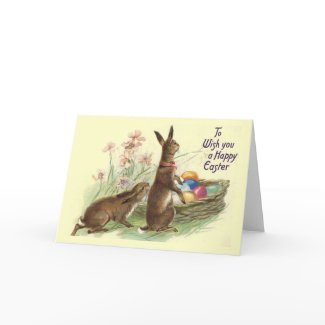 Vintage Easter Rabbits by Sandyspider

An Easter Bunny?
by
Sandyspider
Browse more
Easter bunny Cards
Read more on
Easter on Zazzle and Gifts